Kelley and Peta, two colleagues — who also happen to be sisters — have played an essential role in blazing a trail for female removalists at Man With A Van.
A few years back, Kelley was walking her dog with her housemate when she spotted a Man With A Van truck. She wondered out loud if she could work for them and to her surprise one of the removalists yelled out from the truck, "yeah, you can!". It was that fleeting interaction that led her to apply.
"I didn't expect to get an interview because of the name. When I had my interview I had to lift a 35kg box and then drive a truck," Kelley said. "From there it was a few days training and I was on the job."
Peta, on the other hand, thought she'd give it a go when she saw how much Kelley was enjoying the flexibility the job gave her, "I was dubious at first, but then I was surprised at how much I enjoyed it — it's good, honest hard work and it keeps me fit and healthy which is what I'm passionate about," she said.
The flexible nature of working with Man With A Van means that Peta has been able to continue her massage therapy and crossfit training alongside the removalist role. Kelley's passions include art, sculpture, performance and video. She also works as a parkour instructor.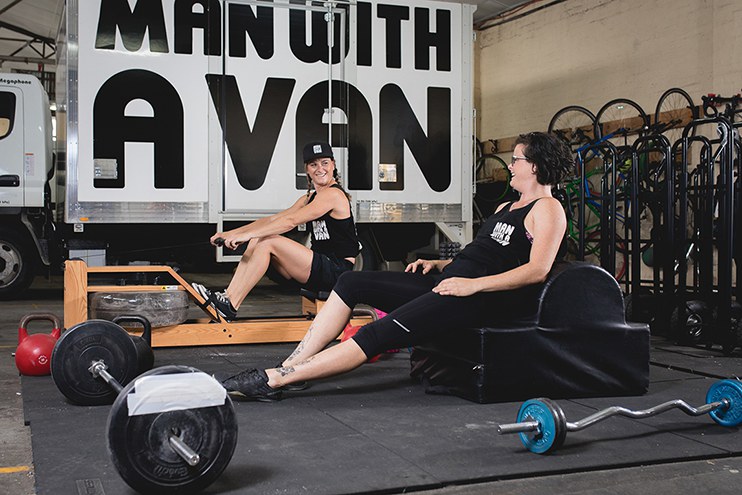 Both Kelley and Peta had worked a lot in hospitality previously.
"These jobs, particularly cafes, were emotionally draining and emotionally exhausting," Kelley said.
"With this industry though, everyone knows that moving day is the worst day of the year; it's nice that you can be there to help people and make it less horrifying."
When asked what the most challenging thing about working in the removalist industry, Peta explained that it's "clients making misogynist comments every other day".
Kelley agreed.
"Casual misogyny that we often face existing in the world as a woman is experienced even more, but the Man With The Van crew are so supportive and caring — they've always got your back," she said.
At Man With A Van, there's been a lot of discussion of the lack of representation across gender in the industry. Traditionally, the job is seen primarily as 'men's work' but Kelley and Peta are quick to debunk this.
"It's a shame there aren't more women," Kelley said.
"It's a great job for fitting around your other interests — art, family, and music. Give it a go! I never thought this was open to me but it is."
"You need patience and an unflappable sense of humour. It's not all about strength, endurance is more important when you are working long days. Don't let your strength hold you back from having a go. The first 2-3 weeks are the worst — it's about conditioning though, and you will get used to it."