Melbourne's Favourite House Removalists
We may come across casual, but we take house removals seriously. With 10+ years experience, we've perfected the process so you don't have to.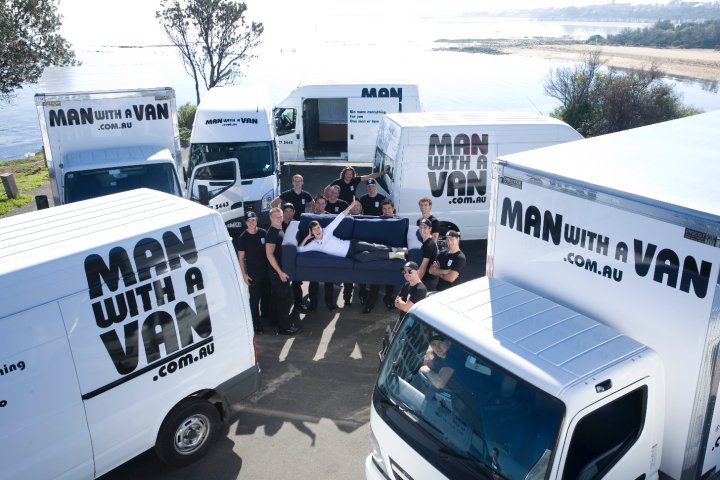 Moving house? You've come to the right place.
Moving house is stressful stuff, but doesn't have to be. Get Melbourne's house removal pros involved instead.
We offer comprehensive house removal services to make your move as easy as possible.
Man With A Van has been moving houses around Melbourne for over two decades. Believe us, we've moved it all. We've perfected the process, so you don't have to.
Moving house - you can try and tackle it yourself, or put your feet up and let us.
Simple stuff, really. We're really good at what we do.
The most trusted movers in Melbourne
Since back in 2001 we've been moving everything with speed and care, and earned a reputation for reliability. We back this up with an armada of modern moving trucks and a comprehensive damage guarantee - so you know you'll be moved on time and be fully covered. That's why we're Melbourne's favourite furniture removalists.
Efficiency
We understand that time is precious, which is why we work quickly and efficiently to get your belongings from your old house to your new one. We don't mess around when it comes to moving, and we'll get the job done without any delays or hiccups.
Flexibility
We know that every move is unique, which is why we offer a range of house removal services that can be customised to fit your specific needs. Our team is flexible and adaptable, and we'll work with you to make your move a success.
Affordability
We understand that moving house can be expensive, which is why we offer competitive pricing without compromising on quality or service. Our affordable rates are designed to make your move easier on your wallet without sacrificing the professionalism and expertise that you deserve.
Humour
Moving house can be a daunting and stressful experience, but we like to lighten the mood with a bit of humour. Our team of house removalists is not just here to move your belongings - we're here to be your moving buddies, and we'll keep you laughing throughout the process.
Our house removal services include:
Loading and Unloading
Our team is trained to handle all your heavy lifting, so you don't have to lift a finger. We'll move your furniture and other belongings without any scratches or damages, ensuring that everything arrives safely and securely at your new home.
Transportation
We have a fleet of moving trucks that are equipped to handle all your belongings, big or small. From your antique vase to your king-sized bed, we'll transport everything to your new home without any issues.
Our process
Fill out our enquiry form.
Say hi to our friendly movers at the exact place and time needed.
Make an iced tea, while your belongings move from house A to house B.
That's about as hard as it gets.
FAQs
How much does house removal cost in Melbourne?
We know that cost is important, so we've broken it down into a simple-to-understand pricing table.
How to prepare your home for removalists?
Declutter and get rid of any items you no longer need or want
Pack your boxes, labelling them with their contents and the room they belong in
Disassemble any large furniture that needs to be taken apart
Ensure that all items are easily accessible for the movers
Protect fragile items with bubble wrap or packing paper
Clear a path for the movers to easily transport your belongings out of the house
Take down any curtains or blinds
If you have pets, make sure they are secured and out of the way during the move
Empty and defrost your fridge and freezer
If you're moving out of a rental property, make sure it is clean and ready for the next tenant.
See our comprehensive moving checklist here.
How long does it take to move house?
The time it takes to move house in Melbourne can vary depending on several factors, including the size of your home, the amount of furniture and belongings you have, and the distance between your current and new locations. On average, a local house move within Melbourne can take anywhere from a few hours to a full day.
It's also important to factor in traffic conditions and access to your property (for example, if you have stairs or elevators), which can also affect the overall duration of the move. To get a more accurate estimate of the time required for your specific move, get in touch with us, and we'll help. There are not many moves we've not been able to do!
Is there anything that you don't move?
Items we don't move include pianos and billiard tables, gas bottles, and photocopiers. These require specialists of their own - lucky we know someone who knows someone.
Other services we can help with