Do I really need boxes when moving house?
It can be tempting to ignore the need to box up your items before moving house. It seems like a thankless chore — who wants to spend time working out what type of boxes to use, how many, and where to get them from? Once you've got them, you pack them, only to immediately unload them at the new place. Why not just wing it?
We've had customers who don't use boxes, and pack everything in plastic grocery bags. We've also moved customers who slot everything neatly into labelled and sealed moving boxes. While we're happy to move people in all circumstances, there's no prizes for guessing which of these examples ends up with a smoother, faster — and therefore cheaper — moving experience. Boxes, when packed properly, are stackable on trolleys, protect your stuff, and allow for everything to end up where it needs to go, in perfect nick, at your new place. From a mover's perspective, uniformly sized and sealed boxes mean we can move quickly, pack them in the truck safely, and save you money with a speedier service.
Consider your possible futures. You're sitting on your couch in your new place, sipping on a cold beverage of your choice, all your boxes neatly stacked in the right rooms. Or, you're scratching around, tearing into unlabelled plastic bags of loose items, desperately trying to find a roll of toilet paper.
So yes, you really should use boxes for moving. This little bit of organisation will save you a lot of worry further down the track. It's the right thing to do for future-you.
Do I have to use proper moving boxes?
You really should. Other box types, like supermarket boxes, are thinner than packing boxes and don't have the strength to protect your stuff. If you need to do the move on the cheap, put a call out to your friends and family for moving boxes — you'd be surprised how many people have them hanging around in their garage. As a last resort, non-moving boxes and packaging are certainly better than nothing.
What size boxes should I use for my move?
There are two essential box sizes to use when moving house. Small boxes (commonly known as book or wine boxes) and big boxes (often referred to as 'tea chest' boxes). A third type many people find useful is the port-a-robe — which is a tall box with a hanging rail inside, for easily transporting the clothing you keep on hangers.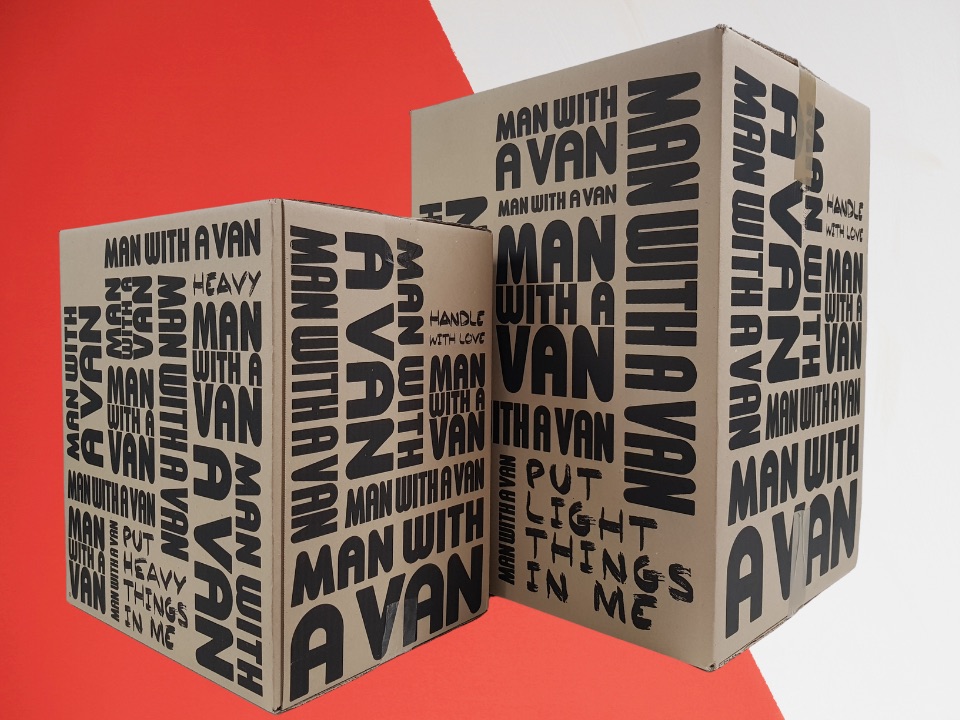 The stars of the show: the humble 'small box' (left) and the more generous 'big box' (right).
How many boxes do I need?
One of the difficulties of planning a move is that all your stuff isn't visible until you start to pull it out of cupboards, off bookshelves and out of the shed. You'll need to have a good gander at what's in your cupboards and shelves a week or so before moving day to work out how many boxes of each type you'll need. This is because ideally you'll have your boxes on hand and ready to pack a few days ahead of the move — take our word for it, this'll dramatically reduce your stress on moving day.
Do a walkthrough of your property with small boxes in mind. You'll want to include books, wine, crockery, cutlery, pantry items and any other small but heavy pieces while working out the number of small boxes. A good rule of thumb is that a regular-sized bookshelf requires one small box for packing.
Do the same walkthrough for big boxes, but this time you're looking at your doonas, sheets and towels, and other lightweight sundry items. Allow a large box for each doona, one for your towels and sheets, and at least one for pillows and cushions. Consider one for larger, lighter pantry items such as cereal boxes.
I'm feeling lucky. Can I just guess how many boxes I need?
If you just want to get started with your packing, and would prefer not to spend time tallying up all your bits and pieces, you can work off a rule-of-thumb when ordering boxes. We've found that a one bedroom home often requires around 10 small boxes, 5 large boxes, and a portarobe or two. A two or three bedroom home often needs 20 small boxes, 10 large boxes, and three or four portarobes.
Where should I get my boxes from?
Once you've worked out how many of each box type you want, it's time to put in an order. Of course, we recommend using The Man's Box Shop — you can order all your packing materials, including tape, sharpies and packing paper there now. You'll even get free delivery to your door for orders over $60.
Alternatively, you can visit a storage centre in your area, or put a call out to your network of family and friends to see if anyone has spares lying around.
How do I pack my boxes properly?
So you've got your boxes. It's time to make sure you're using them properly. We've put together our top tips for boxing up items to protect your precious goods inside. Check out The Perfectly Packed Box for all our tips on reaching box-packing nirvana.
Want to order boxes for home delivery?
No worries, just hit the button below.