Green Movers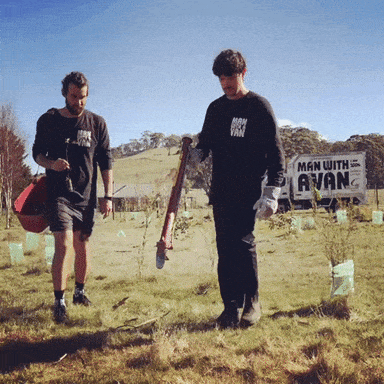 Scruffy Activist
When Tim Bishop founded Man With A Van back in 2001, he had recently returned from protesting uranium mines in central Australia, and was studying renewable energy at Swinburne TAFE in Hawthorn. It's not surprising that since then, Man With A Van has remained focused on minimising its carbon footprint, and playing its part in promoting sustainable lifestyles.
Greenfleet
Since 2006 we've been carbon offsetting our entire fleet of vans and trucks by planting native trees with Greenfleet. In that time Greenfleet have plated thousands of trees on our behalf, we've offset 2382.8 tonnes of carbon emissions (that's like taking over 550 average cars off Australia's roads for a whole year or offsetting 175 Australian households) Check out the Greenfleet team's before-and-after description and images of Whitehurst, Victoria, for an example of the revegetation projects they complete. Man With A Van employees attend planting days to get a better idea of Greenfleet's work, and to get their hands dirty for a greener future.
Paper Free
We've virtually eradicated paper use in our office, and on the road, with a custom-made entirely digital mobile scheduling system. We reckon we should be able to move houses without killing trees.
Tips for Greener Living
We believe that our employees and customers are keen to minimise their environmental impacts, so we've put together a number of nifty guides to greener living for Melburnians:
- Making Your House Move More Eco-Friendly
- Where To Donate Furniture In Melbourne