Man With A Van has gone through some epic changes in recent years, none of which came without hard work from our team.
This one is a doozy.
At our epic location in Cranbourne complete with an office, fleet of trucks, personnel and a state of the art coffee machine that fuels the whole operation.

Why the move?
Simple. It's time we gave the South East suburbs more options, and charge less for them too.
As Melbourne expands outwards, our research has shown us Cranbourne and the surrounding areas need a crack team of removalists to help. More Melbournians are choosing the South East as a beautiful area to live, a trend we're not expecting to slow down anytime soon.
As the Man and the team have grown, our locations must follow - if we're closer to you, it means we can do more for less. With 30+ moving trucks of different sizes shared between our locations in Abbotsford and Cranbourne, the South East Suburbs now has more than its fair share in Man With A Van removalists.
We've seen a great response from the community so far, and we're looking forward to continuing to serve them in the best way possible.

The big picture
We're here to help make your move as stress-free as possible. Full-service packing and unpacking, loading and unloading - this is what we do best, and we're here to do it more often for more people. It's in our brand's genes, and the passion for the job ensures that everything goes smoothly.
We want to thank all of our customers for their support - we couldn't do this without you.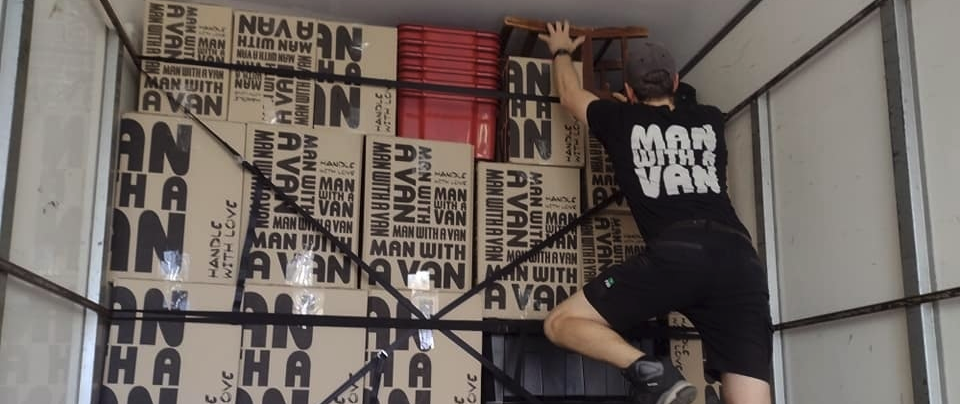 Why use us?
Because we don't skip out on perfecting the fundamentals. Moving you from one home to another is what we do best, and the fine art has been perfected over the years of quality control. The Man's got this, so you don't have to.
See our booking form to get started.
Don't move without knowing what you need to know.
Moving isn't just taking all of your stuff, and putting it somewhere else - lucky the Man has a checklist for these kinds of things. Follow the moving checklist for a hassle-free move and we promise your experience will be A LOT smoother.
Wondering how to move out without disturbing the peace?
Don't worry, the Man can help you out. Moving out can be stressful, and not just for you - find out how to move out of your share house without conflict here.
Moving soon? Don't risk winging it with any existing property damage - get your bond back.
Nicking the occasional wall or scraping the paintwork is sometimes an inevitable part of renting. The Man's seen it too many times - make sure you've done your research on howto get your bond back here.
All those hours playing Tetris in school may not be as useful when moving as you think.
When packing a moving box, the Man has a few tips and tricks up his sleeve that will help you save space and time during your move. It'll also help everything get to your new property in one piece - make sure you read up on how to pack boxes for moving house.